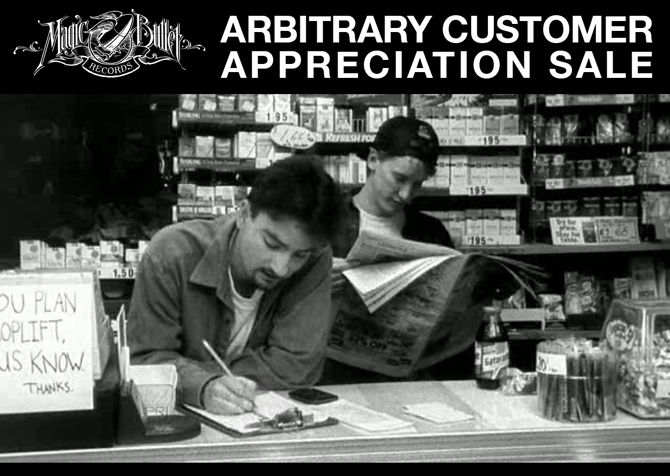 2009 ruled. 2010 rules. You guys bought a dickload of records, so I got to put out a dickload more records and even opened up a retail record store/skateshop with my brother here in town this past December. Because of the sheer volume of inventory that 14 years/130+ releases generates, physical space for the onslaught of new releases that are about to come out (Christie Front Drive re-issues, Jesuit discography, new Integrity 7", new This Will Destroy You 10", new All-American Rejects 12", Ghastly City Sleep's new album, Made Out of Babies LP's, new Meditative Sect LP, etc. etc.) is needed. Knowing that Valentine's Day is coming up as well, I figured what better time to show some customer love and have a super quick (1 week only) sale where 14 LP's get marked down to $5.00 ppd each?
Go HERE: [
www.magicbulletrecords.com
]
The sale starts NOW and runs until next Friday (February 19). Quantities are limited and we reserve the right to sell out of things before you get around to ordering (no rainchecks).
CANADA/MEXICO/WORLD : Since the shipping is kind of screwy in the webstore for foreign orders, write me at
info@magicbulletrecords.com
with what you want, where you live, and I'll write you back with how much to Paypal.
The following titles are all marked down to $5.00 each ppd in the US:
• AUSTIN LUCAS "Putting the Hammer Down" LP (green, shadow)
• MAJORITY RULE "Interviews With David Frost" LP (purple) - 54 left
• MAJORITY RULE "Emergency Numbers" LP (berry blast) - 54 left
• LOSER LIFE "I Have Ghosts and I Have Ghosts" LP (marble) - 53 left
• RINGFINGER "Decimal" LP (green, grey)
• THE WAYWARD "Overexposure" (gold + CD) LP - 12 left
• GOLDEN CITY "S/T" 10" (blue)
• AUGHRA "Proof of Dark Matter | Light the Lights" LP - 46 left
• ROMANCE OF YOUNG TIGERS "I Have Supped Full on Horrors" LP - 92 left
• THE PAPER CHASE "Someday This Could All Be Yours" LP (180 gram vinyl)
• KAOSPILOT "Shadows" LP (green, red)
• LYMBYC SYSTYM "Carved By Glaciers" LP (marble)
• FORENSICS/TEXTBOOK TRAITORS "split" LP (black) - 36 left
• OLD MAN GLOOM "Seminar II" 2xLP (black) - 26 left - reduced to $10.00!
Thanks.
[
www.magicbulletrecords.com
]