Finally, the new issue is out.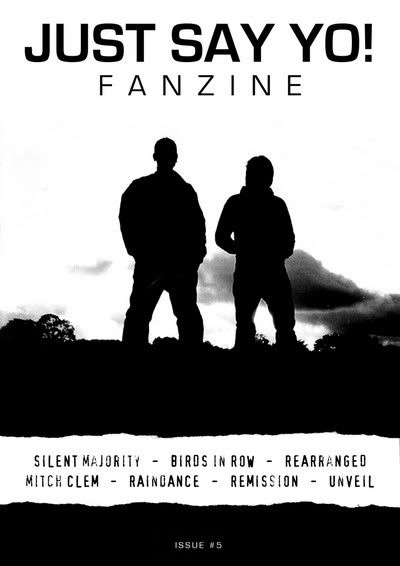 68 pages, Full Sized in English, featuring:
REARRANGED
interview (Russia | React! Records)
UNVEIL
interview (Switzerland | Catalyst Records/Cobra Records)
RAINDANCE
interview (USA | Glory Kid Ltd.)
BIRDS IN ROW
interview (France | Deathwish Records)
REMISSION
U.S Tour Report (Chile | Amendment/React! Records)
MITCH CLEM
interview (USA | Punk Comic-strip artist)
SILENT MAJORITY
retrospective (USA | 1991-2000)
MIKE HARTSFIELD vs MIKE KIRSCH
double discographies article
WORMS IN THE BIG APPLE
mixtape (wrap up on the current NY punk scene)
+ Columns, Record & Zine reviews, etc.
I also printed 50 copies of
issue #3
which was sold out.
You can pick up both of them, along with issue #4 here:
[
justsayyozine.bigcartel.com
]
[
justsayyozine.bigcartel.com
]
[
justsayyozine.bigcartel.com
]
Distros, bands, labels, get in touch if you can help with distribution:
just.say.yo.zine(at)gmail(dot)com
Website: [
justsayyo.wordpress.com
]
facebook: [
www.facebook.com
]